If you are looking for the best responsive food blog WordPress theme, you came to the right place. We compiled a list of seven outstanding, remarkable, high performing and effortless to use site canvases for you to consider. From top to bottom, each theme you find is unique, original and innovative in its own way.
With these jaw-dropping WordPress themes for food bloggers, you can share your stunning and salivating dishes with everyone to enjoy. Bring your one-of-a-kind recipes to the internet and let others try them out as well. Create a community of loyal followers and grow your little blog to some serious volumes.
12 Best Responsive Food Blog WordPress Themes
1. TinySalt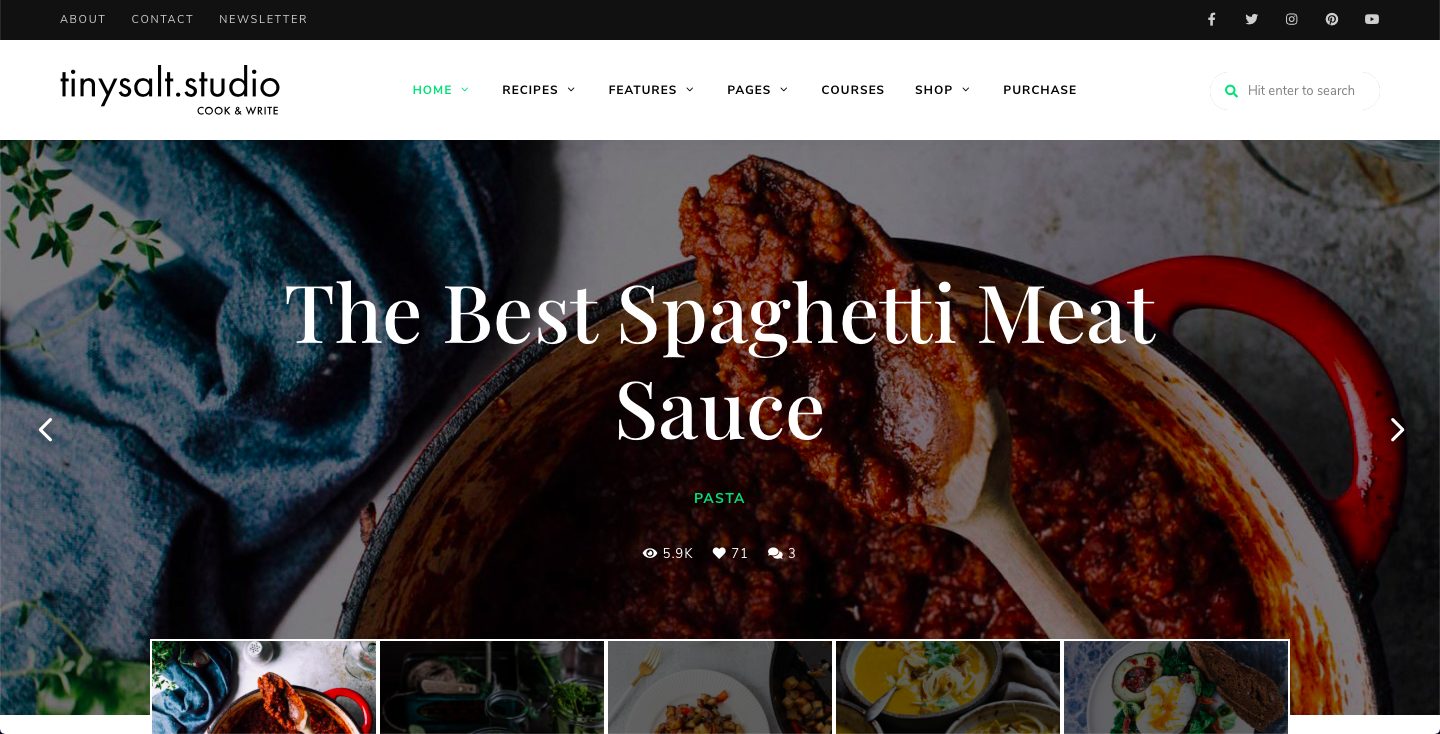 If you're looking for something fresh for your food website theme, TinySalt might just be it for you. You can post hundreds of recipes that can be easily navigated by your audience. It's designed to present your food content in a visually pleasing manner. The blog styles and layouts are rich and beautiful. Plus, it's compatible with several popular plugins like MailChimp and Contact Form 7.
2. Blogosphere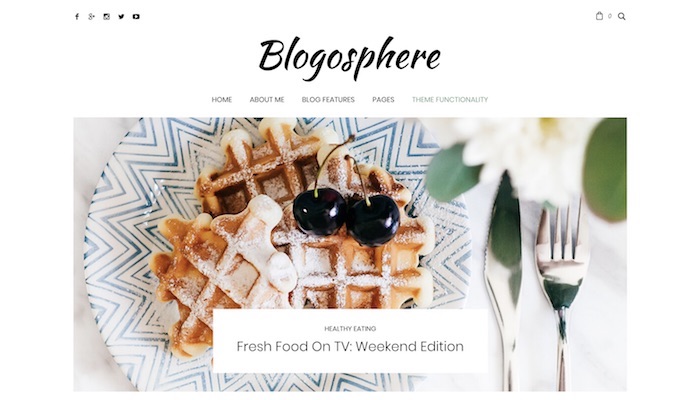 With its multi-purpose approach to blogging, Blogosphere is a versatile WordPress theme that you can use for all sorts of intentions. There aren't any set rules what you can use Blogosphere for. It is your imagination that defines the purpose and if this means building a food blog, Blogosphere brings your idea to life swiftly. In fact, among multiple predefined demos, Blogosphere also contains one that is food-exclusive. No doubt, you will have a ton of fun filling the spaces with your mouthwatering food creations, making your blog visitors salivate. And Blogosphere will display all your content in a refined and polished way, distraction-free. 
3. Sabroso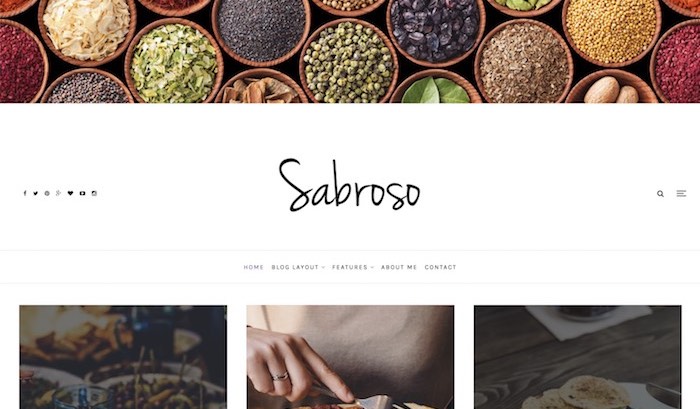 Are you excited to bring your idea for the forthcoming food blog to existence? If you are and you are still in search of the right solution that will get the magic to happen, chances are, Sabroso is the tool you need. It is carefully designed and neatly packed with fascinating features food blog WordPress theme that will do you well. Sharing your creative and innovative recipes has never been easier. Take the opportunity and get things moving in the right direction with the remarkable Sabroso. There are a whopping nine different homepage designs that you can choose from. Besides, all the pre-built layouts are entirely customizable for you to tweak to your needs with ease.
4. EasyMeals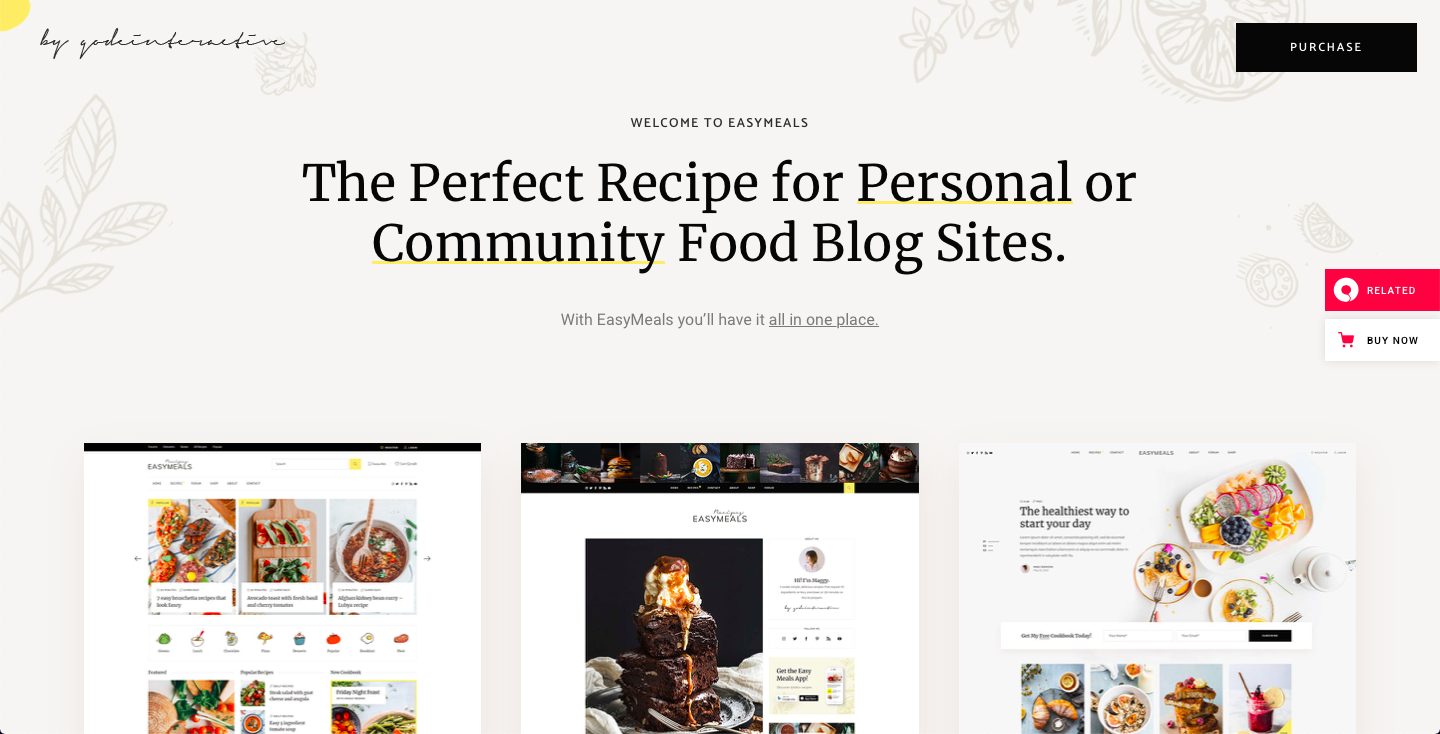 If you're setting up a personal food blog website where you can post your own recipes, EasyMeals is a great theme to consider. You can opt to list your blogs or go for single post templates. In addition, this theme allows users to create a forum for all members so everyone can discuss about food and recipes. It's easy to customize this theme too, thanks to the Elementor Page Builder.
5. Lahanna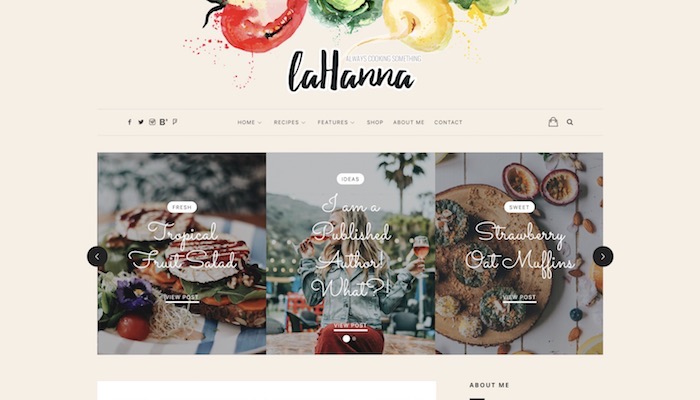 Right off the bat, you will notice that Lahanna is successfully differentiating itself from the masses. Lahanna has a handy front and interactive ingredients list and super cool timer links for your visitors to see how long they still have to complete the step. Not to mention the level of simplicity regarding creating recipes.
6. Food Blog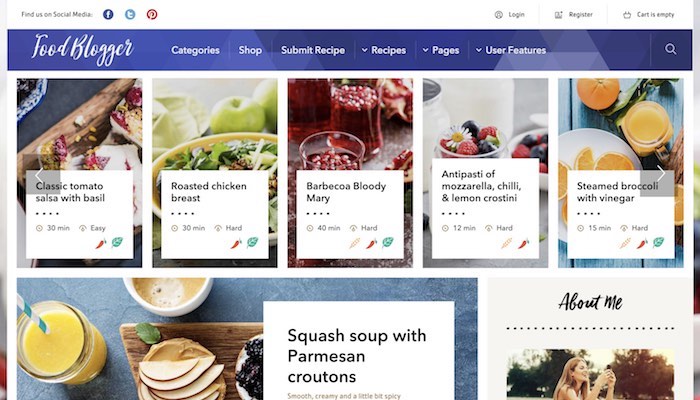 You immediately know what you get with the Food Blog WordPress theme. It is a spectacular tool that will help you on your journey to managing and maintaining a refreshing blog with zero complexity. In other words, you do not need to be a designer nor a programmer to still have the option to get your page up and running in no time. Food Blog gives your users a chance to submit their recipes so you can feature them as well. Create a community of food enthusiasts and grow.
7. Good Food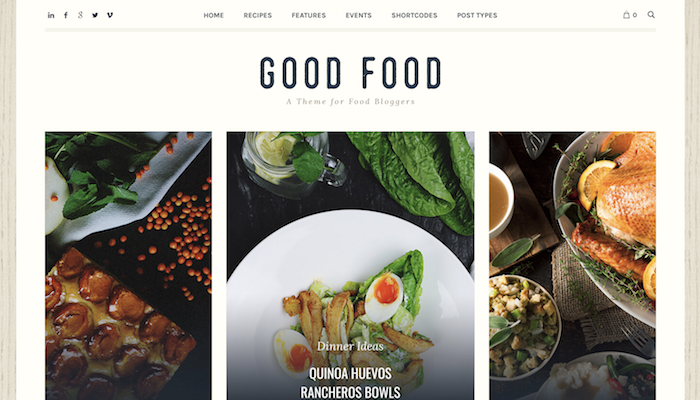 Good Food is a responsive and mobile-friendly WordPress theme for bloggers who plan to share recipes. Along with the already amazing and cutting-edge layout, Good Food also comes with numerous features. With Good Food, you can not only create and publish irresistible recipes, but you can also start an online shop and push different events you are hosting. In addition, you can translate the theme, add enticing animations, utilize over ninety shortcodes, and craft custom forms.
8. Julia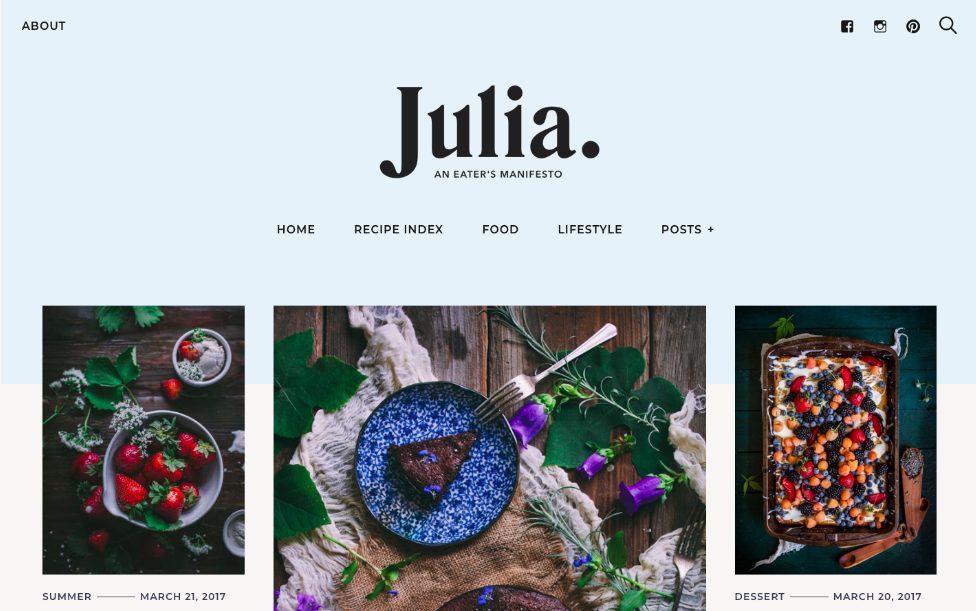 Julia is a great food website theme for anyone who's just starting out and wishes to create their own path in the digital world. You can create a scrapbook of sorts where photos and videos of your food adventures are posted. It's a great theme for people who are intent on getting serious with their food blogging and building a community.
9. Marmalade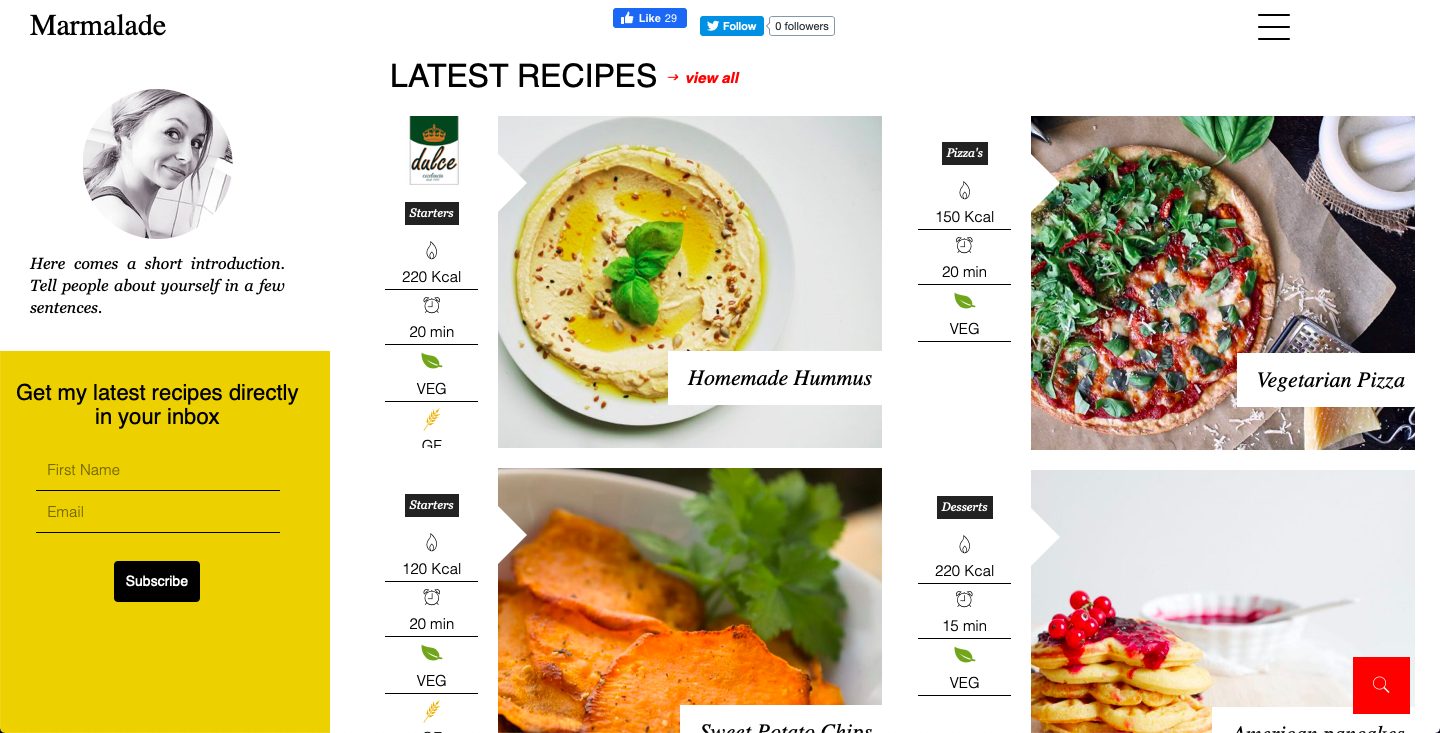 If you want to take up your food blog to another level, Marmalade might be the one for you. It's designed to boost your social following and brand awareness. In addition, this theme can also help you increase your SEO, thanks to its responsive and interactive features. The layout in itself is beautiful and you can post star ratings and have a print template for your recipes.
10. Superfood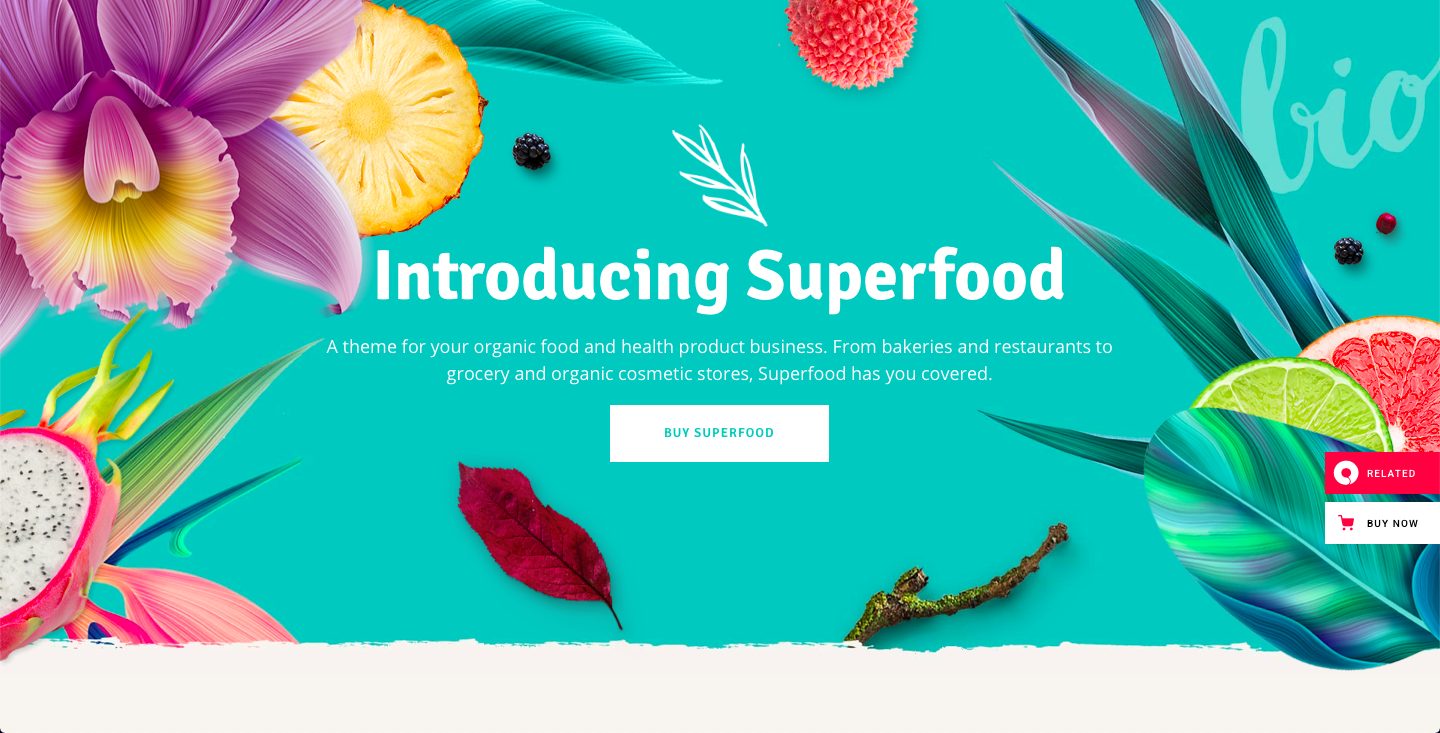 Superfood is one of the best themes to have if you have a food business. Whether it's for a bakery, dessert shop, or grocery store, this theme covers virtually everything. There are several predesigned homepages to choose from and fresh elements to introduce your brand to the audience. The theme offers a wide range of shop templates so it'll be easy to set up shop online.
11. Pome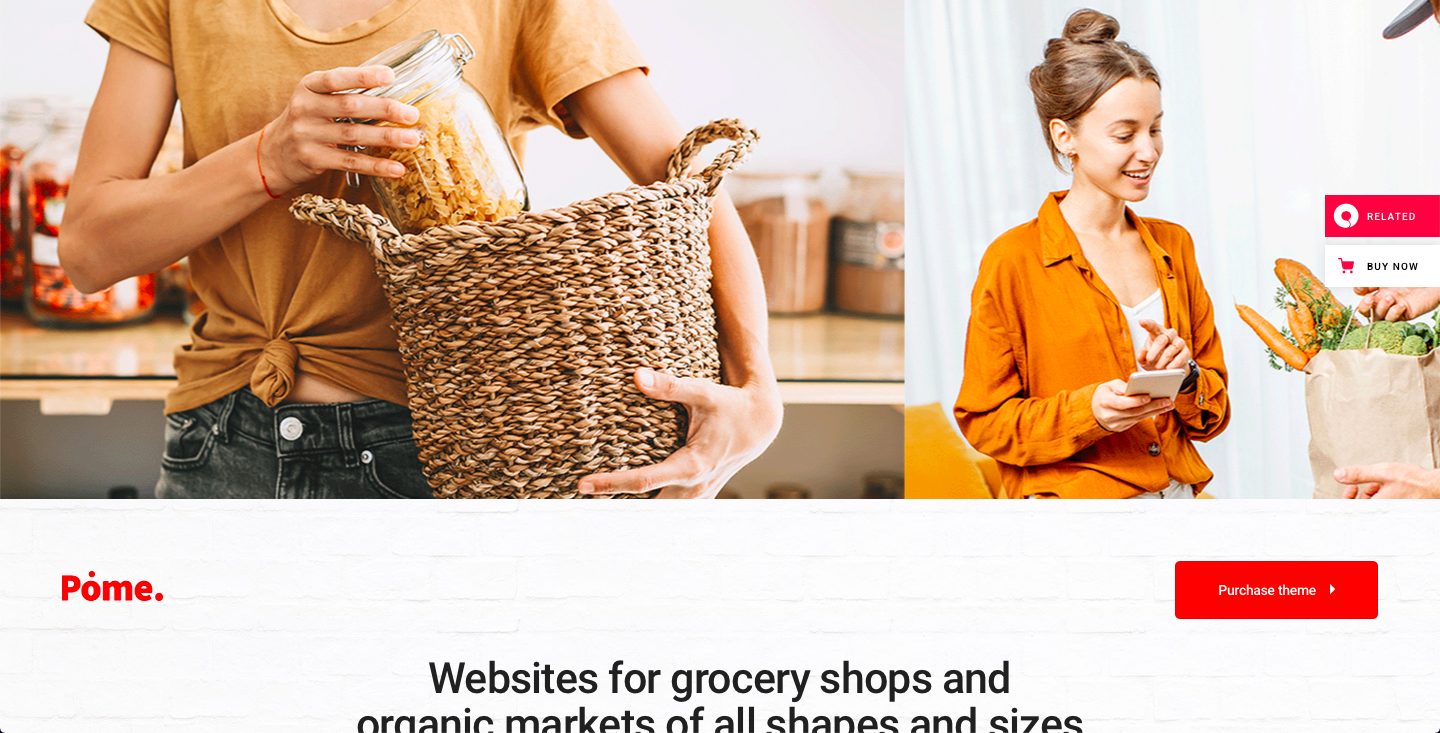 Pome is a contemporary food website theme that offers a modern look to your page. It can be a food delivery website or a food blog, this theme can work it out with anything. This theme serves as your online market and connection to the public. It's also incredibly responsive so you can retain users longer.
12. HealthFirst
If your food blog is all about nutrition and healthy recipes, look no further than HealthFirst. It's designed with website elements where you can showcase different aspects of healthy eating, such as nutrition health, weight loss, and recipes. This theme is also fully compatible with Elementor and features a dedicated Recipes section for your audience.
Author bio:
Rokr is a professional content creator and an enthusiastic marketer who spends most of his day behind the screen, drinking coffee and listening to black metal. But he never misses a daily workout to get the blood flow going. He goes by the quote, "Only a fool worries over what he can't control."
First published in October 2018; updated July 2021
The post 12 Best Responsive Food Blog WordPress Themes