We are all celebrating National Games Day on the 20th of December. What better way to celebrate than to find inspiration from some of the internet's best-looking game graphic designs. The majority of mobile games that are downloaded by the millions on the internet are sold, first, because of their graphic design. When a game (and its thumbnail) looks enticing and pleasing, more people would download them. Then, the gameplay will be the deciding factor on whether or not the users will continue playing it. It is safe to say that the download button weighs more (at the beginning) towards how the game looks. This is why graphic design is of great importance in game development.
Designing game graphics takes a lot of work and effort – from conceptualization to execution. There are also so many unique game graphic designs to be inspired by. Here are some of the best ones to inspire us:
Cyber Surfer
Who knew neon could produce such incredible game graphics, right? With the black background, the neon color palette makes the gameplay more exciting. Also, the color palette gives the game a retro-futuristic vibe which is in line with the intergalactic-ish theme of the gameplay.
The Farm
Pixelated graphic design is yet to exit the industry and these games explain why. Pixelated graphics gives a unique, and simultaneously, nostalgic vibe to the game. It is quite reminiscent of the times when colored games just entered our screens.
Genshin Impact
A lot of gamers enjoy games where avatars and characters are designed in 3D. Character design details for this game are incredible. What makes the graphic design more interesting in this game is the first-person point of view design.
Rise of Kingdoms: Lost Crusade
Interesting character design – it gave a modern twist to historical costume. The attention to detail is also quite incredible in this game.
Pokemon Unite
This is probably one of the only games where we see Pokemons in action.
Lego: Starwars
What can go wrong with games that have Lego avatars, right?
Case Hunter
The character designs are very reminiscent of Disney's Mystic Falls. The designs are cute, relatable, and child-friendly.
Toca Boo
Graphic, but cartoon-ish. This is a common trend with game conceptualization and design.
Cookie Run
This game is very colorful but not as overwhelming. The color palette, even though it completes the rainbow, blends so well together.
Adorable Home
The hand-sketch design makes this game unique and memorable.
Bonus: Thetan Arena
Neon, 3D, role-playing – what more can we ask for?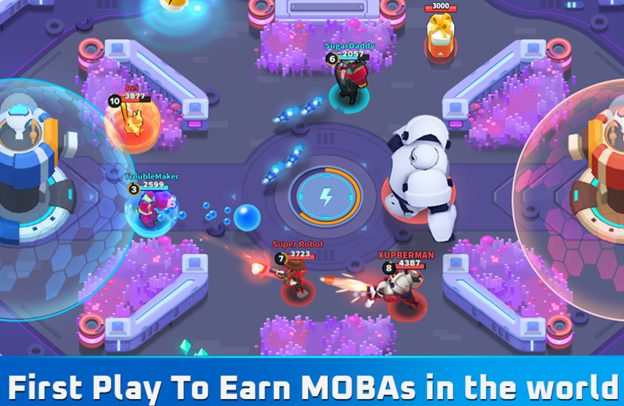 Also read: Christmas Gift Guide for Web Designers and Developers for 2021
The post 10 Mobile Game Graphic Design Inspiration for National Games Day